Xàkújághá Lyle Dodginghorse
Nìskàgīnīstō-hí - Lands Administration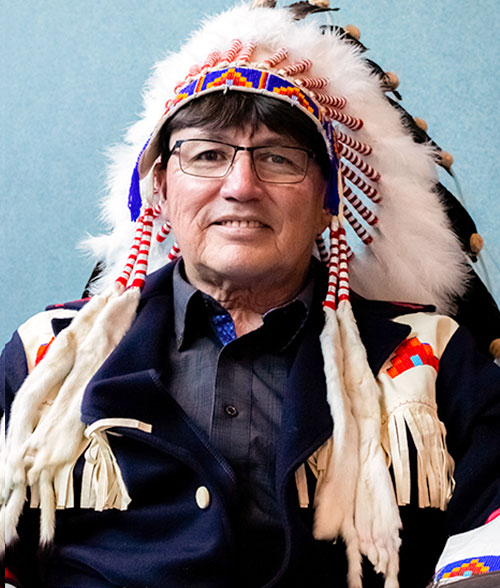 "Dît'ôn Dîghásí – White Eagle"
Tsuut'ina Family Linage: Dodginghorse and Big Plume Families
Biography:
Through the Big Plume family, a direct descendant of Chief Bullhead, it is Lyle's honour to serve the citizens of the Tsuut'ina Nation since 2001 as councilman. Growing up and spending his life on the Tsuut'ina makes Lyle proud to be a part of the significant growth and development happening on our Nation and the opportunities created for our young people. Lyle attended post-secondary at Mount Royal University and went on to play a vital role in the Nation's economic development during his time as a council member.
Lyle is a firm believer in creating opportunities for our citizens to get as many post-secondary and trades students with the education and training to equip our young people with the tools to build a brighter future.
He continues to be involved with developing the present ring road; DND-Rent negotiation; the joint venture with TAZA Development; the joint venture with NOTRA and TTCGP for ordnance disposal contracts; and continues to serve on several Nation Boards.
Lyle and his family enjoy traveling for his pursuit and passion for photography. He is devoted to his family, children and grandchildren and loves spending time with his very large extended family.
"I remember the old people; how they worked the land without modern equipment; it made me realize their resilience and how they loved our land. I hope to pass on that same ideology to this generation with our current and upcoming projects, showing and proving to them that our land base will look after us for our future."
Nìskàgīnīstō-hí
Lands Administration
AGRICULTURAL LANDS
BUFFALO PADDOCKS
CONSULTATION
ENERGY / RECLAMATION & REMEDIATION
LANDS AND ENVIRONMENT RESEARCH DEPARTMENT
LAND CONSERVATION
NEW LANDS
RANGE PATROL
WOLF FLATS