Xàkújághá Ellery Starlight
Ttát'á Dīná Ōghā Nàgūt'íní Dīdī - PUBLIC WORKS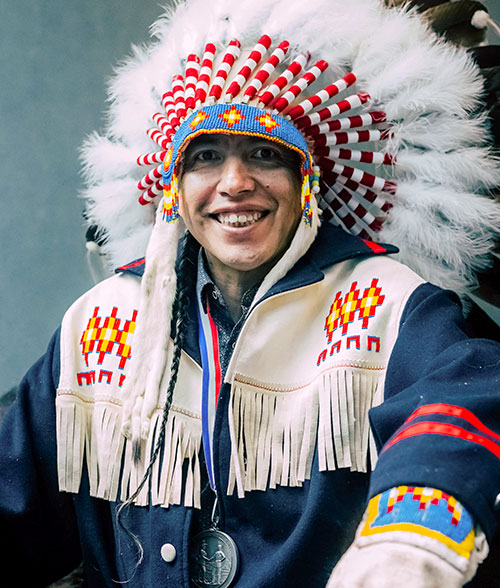 "Star Chief -Suh Xakiji"
Tsuut'ina Family Linage: Starlight Families
Biography:
Ellery Starlight was first elected in 2010 and served the Tsuut'ina Nation for a decade on Chief and Council. Ellery is a proud supporter of the Tsuut'ina Language and Cultural Ceremonies and Events and participates in Powwow Drum Singing, and dances in the Men's Chicken Dance category. These are values and traditions that he passes down to his many children and grandchildren.
Councilor Starlight is also a tepee owner at the Calgary Stampede and takes pride in representing the Tsuut'ina Nation at the Calgary Stampede every year.
Councilor Starlight completed his High School Diploma in 1989 and went on to vocational College in Grouard, Alberta, and Lethbridge College, where he received his Renewable Resource Certificate. He then returned home to spearhead the creation of the Office of the Peacemaker and the Peacemaker system for the nation from 1999 to 2009.
Ellery is an active community member and also participates in the Grey Eagle Casino and Hospitality Board. Ellery works alongside Councilor Brent Dodginghorse as the Council Representative for the Public Works Portfolio. They continue to work diligently to serve the community.
Ttát'á Dīná Ōghā Nàgūt'íní Dīdī
PUBLIC WORKS
FACILITY ASSET MANAGEMENT:
ROADS MAINTENANCE
MECHANICS ROADS
OPERATIONS (HOUSING SERVICE MAINTENANCE, INFRASTRUCTURE, NEW BUILDS)
UTILITIES
WASTE MANAGEMENT
TSUUT'INA DEVELOPMENT AUTHORITY (TAXATION)